Materiality analysis is an approach to identifying critical economic, environmental and social issues, which may either reflect a significant impact on the company's business performance or substantively influence the assessments and decisions of its stakeholders.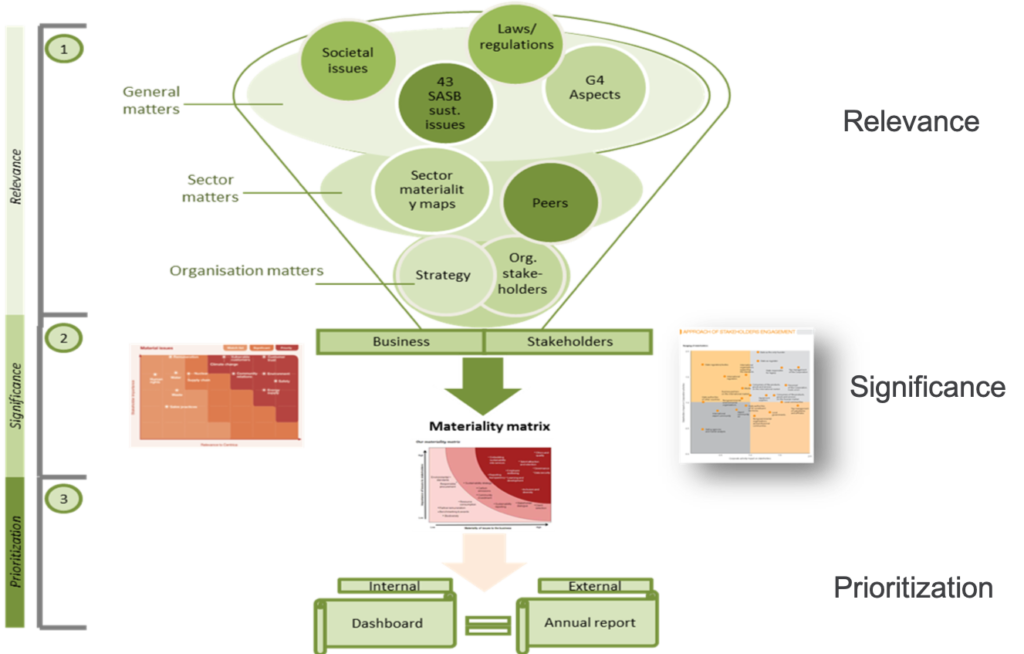 A materiality analysis is the starting point for your sustainability journey. After having extensively explored environmental and social issues of concern, you will be able to identify and prioritise risks and opportunities for your company's reputation, revenues and costs.
Relevance. In preparation for your materiality analysis, you make a long list of issues that may have an effect on your business worldwide. You can cluster this longlist around the 11 DSF themes. This will help you to organise the next stage of your sustainability action plan.
Significance. Based on the prepared longlist you interview 1: your stakeholders and 2: your internal business and you ask them to prioritise the items.
Prioritisation. With the results of the interviews, you can prioritise the 11 DSF themes and additional themes for your sustainability action plan.
Stakeholder involvement. Stakeholders give you input for your materiality analysis. They support you with their insights into issues that are important and relevant for the coming period. Stakeholder groups are your employees, your supplying dairy farmers, your customers, governments, non-governmental organisations (NGOs) and others that may influence your business. In the tool part, you can find a guiding document for how to make use of your stakeholders' knowledge in prioritising your sustainability programme.
Tools for your materiality analyses and stakeholder involvement.